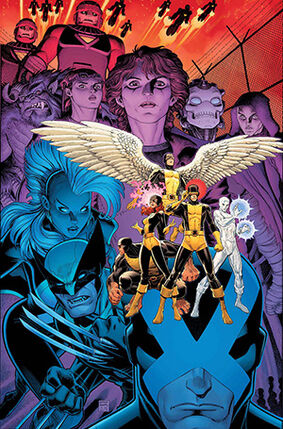 Written by existing writers Jason Aaron, Brian Michael Bendis, and Brian Wood, (along with artists Frank Cho, Arthur Adams, Stuart Immonen, Chris Bachalo, Giuseppe Camuncoli, and David Lopez), the crossover spans three ages as the X-Men of the past, the X-Men of the future, and the X-Men of the present all converge and the past year's major stories come to an apex. 
Titles InvolvedEdit
September 2013

October 2013
Part 6: All-New X-Men #17
Part 7: X-Men vol. 4 #6
Part 8: Uncanny X-Men vol. 3 #13
Part 9: Wolverine and the X-Men #37
Part 10: X-Men: Battle of the Atom #2
The X-Men of the future travels to the present time in order to force the Original X-men to return to their rightful time, as their presence in the current timeline will result in disastrous consequences.
In Other MediaEdit
GREE and Marvel Entertainment have unveiled "X-Men: Batle of the Atom ", a new mobile card game coming this fall 2013 to the App Store and Google Play. Featuring a time-twisting narrative tie-in with the landmark forthcoming Battle of the Atom comic book event, this next-generation card battle game serves as the ultimate celebration for the 50th anniversary of X-Men comics. Players can collect hundreds of character cards spanning the entirety of X-Men continuity, as they play through adapted versions of their favorite story arcs.