1st APPEARANCE: X-Men v.2 #52 (1996)
BIO: During a conflict with the X-Men, Master Mold and Nimrod, a highly-advanced Sentinel from an alternate future, were blasted through the Siege Perilous and were fused into a single man of flesh with no memory of his past. Taking the name Bastion, he subsequently became indoctrinated by ideologists who believed America had a drastic mutant problem, and fell in with anti-mutant extremists.
STATUS: Bastion returned to marshal career anti-mutant activists Stephen Lang, Bolivar Trask, William Stryker, Graydon Creed, and Cameron Hodge upon learning that the Mutant Messiah had returned. Using their combined resources, he devised a plot to trap the world's remaining mutants on Utopia, and to destroy them once and for all.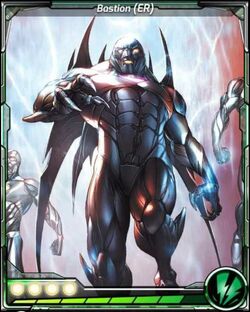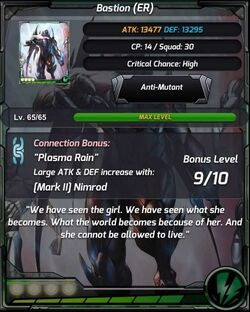 Connections